by Mike Telin
TODAY'S EVENTS:
At 7:00 pm the Cleveland International Piano Competition holds a Watch Party featuring Trivia Night. Yaron Kohlberg and Zsolt Bognár will host and test your knowledge of the piano and music. Teams can be up to six people, so bring your friends (or make new ones) and enjoy great music and a chance to win a Cleveland musical prize package. Music Box Supper Club, 1148 Main Ave., Cleveland. Tickets: $65 includes your first beverage and the Music Box Buffet. Click here to purchase tickets online or call 216.242.1250.
Also at 7:00 pm is Round 2, session 3 of Cleveland International Piano Competition. Contestants perform their Second Round solo recitals of 30 minutes from around the world. Ziyu Liu (22, China), Daria Parkhomenko (29, Russia), Rafael Skorka (32, Israel), and Bowen Li (24, China). Click here at start time. Free.
At 8:30 pm it's Ohio Light Opera's Rare and Well Done, a concert comprising thirteen songs connected with historical personages, composed by such operetta luminaries as Jacques Offenbach, Franz von Suppé, Arthur Sullivan, and George Gershwin. Characters range from queens to sculptors to actors to composers. Live streamed from Wooster's Freedlander Theatre, no audience present. $20. Buy tickets here.
IN THE NEWS:
The Violin Channel wants to know what you're thinking. Click here to access the article and online survey.
INTERESTING READS:
There are two interesting New York Times articles: in one, Javier C. Hernández examines the question "Asians Are Represented in Classical Music. But Are They Seen?" Click here to access the article. The other is a conversation with conductor Oksana Lyniv, who, after 145 years, will become the first woman to lead a production at the Bayreuth Festival. Click here to read.
TODAY'S ALMANAC: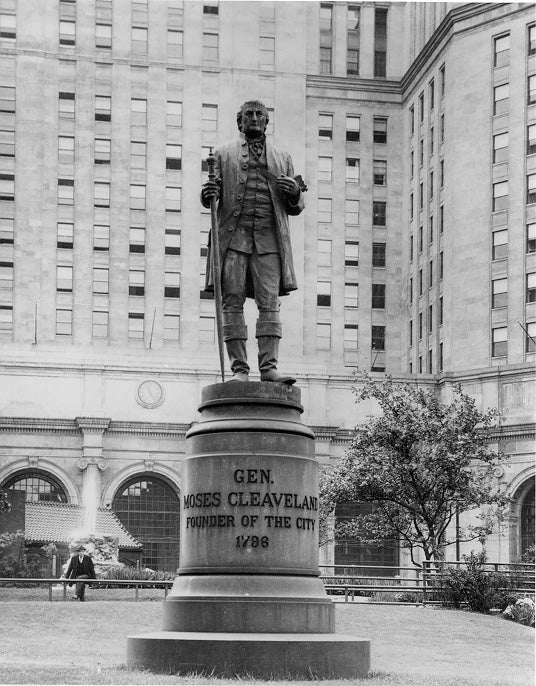 On this date in 1796, Cleaveland was established as a settlement by the surveyors of the Connecticut Land Company and named after their leader, General Moses Cleaveland. (Although he supervised the design of what would become our modern downtown, he returned home shortly thereafter and never returned to Ohio.) The name of the settlement was shortened in 1831, allegedly in order to fit on the masthead of The Cleveland Advertiser, and it wasn't until 1836 that the settlement became incorporated as a city.
Culture took even longer to arrive on the banks of the Cuyahoga River, a history laid out by Cleveland State University professor J. Heywood Alexander in his article in The Encyclopedia of Cleveland History. Jazz began to flourish in the early 20th century (read a parallel article by Joe Mossbrook and Chris Columbi here.)
Fast forward to 2020 to take a tour of the city with Cleveland Orchestra cellist Alan Harrell, who plays Bach in a number of different locations, and follows that up by popping up all over Northeast Ohio in a second video.
And on this date in 1933, soprano Caterina Jarboro appeared in the role of Aïda at the New York Hippodrome, the first Black female opera singer to perform in the United States. A year earlier, Jules Bledsoe made history by singing the role of Amonasro in the same opera, the first Black singer to appear in that role. His performance came in the second and last season of Stadium Opera at Cleveland Municipal Stadium, a series whose first season, sponsored by The Cleveland Press, also saw the premiere of Shirley Graham's Tom-Tom. Alas, no recordings are available.
On this day in 1949, Alan Irwin Menken was born in Manhattan. A prolific composer and songwriter, Menken is best known for his scores and songs for Disney films. The Little Mermaid (1989), Beauty and the Beast (1991), Aladdin (1992), and Pocahontas (1995) have each earned him Academy Awards. A personal favorite is his score for Little Shop of Horrors. Click here to listen to "Dentist!" from the 2003 Broadway Revival Cast Recording.