by Daniel Hathaway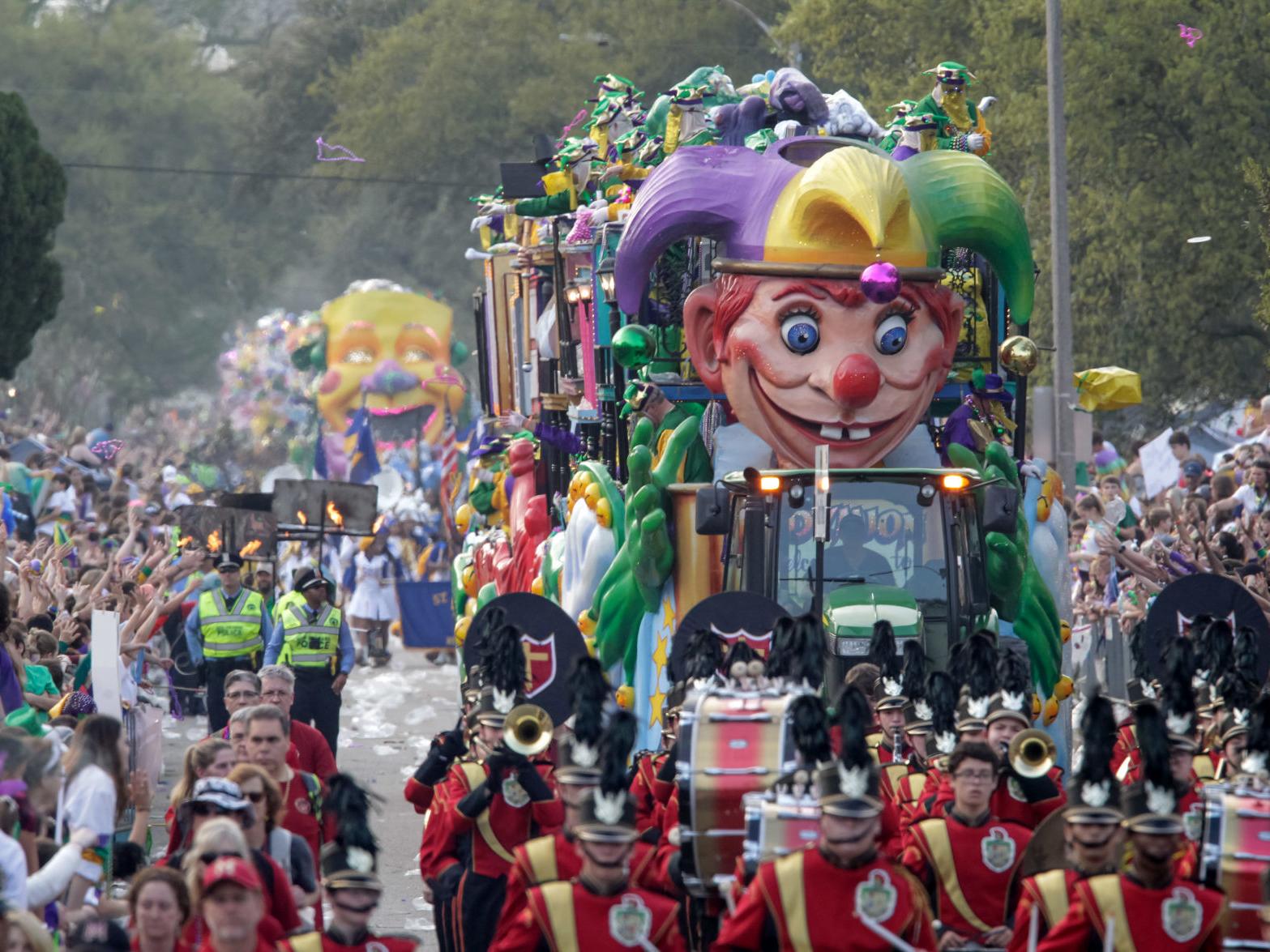 SNOW DAY! MARDI GRAS!
Big snowstorms used to mean that you had the delicious opportunity to stay in your jammies all day, a situation that the pandemic has now made all too routine. Since today is Shrove Tuesday or Fat Tuesday (Mardi Gras in French), this would be the perfect time to nosh on pancakes, a tradition that dates back to medieval dietary prohibitions during the Christian season of Lent, and the need to use up meat and animal products before Ash Wednesday introduced 40 days of fasting. Bon appetit, and remember the parades that used to happen on this day in New Orleans, Rio, and other carnival-minded cities.
ONLINE TODAY:
Akron's Holy Trinity Lutheran Church will mark Shrove Tuesday with a Mardi Gras concert and happy hour featuring Guy Van Duser, jazz guitar, Billy Novik, clarinet, and door prize drawings (read our preview article here). New York's Miller Theater reminisces about the JACK Quartet's first concert ever with Helmut Lachenmann's Grido and other solo works. The Cleveland Cello Society's iCelisti part one celebrates Beethoven from the Bop Stop. And another happy hour, this one from California's Salastina Music Society, features violinist Augustin Hadelich and pianist Orion Weiss. Details in our Concert Listings.
INTERESTING READ:
Philadelphia Inquirer critic Peter Dobrin reports on the Philadelphia Chamber Music Society's experience with producing digital shows and charging for them. Moving online "brought something unexpected to PCMS, one of the nation's busiest presenters of string quartets and piano recitalists: a new and viable business model." Read "Digital shows have brought in 10 times the audience for Philly's PCMS, real money, and maybe a new business model" here.
TODAY'S ALMANAC:
Today's a bit lean in the Almanac — only one birth and one departure to note.
On this date in 1938, American composer John Corigliano was born in New York City, the son of John Sr., who served for 23 years as concertmaster of the New York Philharmonic. Although he came late to composition, Corigliano was the recipient of a Pulitzer Prize, five Grammy Awards, the Grawemeyer Award, and an Oscar.
Cleveland pianist and interviewer Zsolt Bognár featured Corigliano in Episode 60 of Living the Classical Life, and CityMusic Cleveland celebrated his 80th birthday in 2017 with Tessa Lark's performances of his Red Violin Concerto, for which the composer was present.
In 1980, the Metropolitan Opera commissioned a score from Corigliano — his first opera, and the MET's first commission in 30 years. After a delay, Ghosts of Versailles finally had its sold-out debut in 1991. Watch the complete show here. Other compositions memorialized those who perished in the AIDS crisis (his Symphony No. 1, written in 1987 when he was composer-in-residence at the Chicago Symphony), and in the 9/11 attacks (his One Sweet Morning, 2011).
And on February 16, 1968, English-Canadian organist, choirmaster, and composer Healey Willan passed over the great divide in Toronto at the age of 87. While known principally for his Anglican Church music, Willan composed more than 800 works during his lifetime, in all forms from opera to band music. Watch a December 1966 Canadian television interview with him here (continued here).
Contemplating Willan's life and career reminds us that many "consumers" of classical music encounter the genre from sources other than concert halls, and that young people brought up in British choral traditions have gone on to a variety of distinguished careers in music.
Here are three snippets of Healey Willan's art: His motet, Rise up, my love, my fair one (sung by the Sydney Chamber Choir), an anthem, The Three Kings (performed by Tom Trenney and the choir of First-Pilgrim Church in Lincoln, Nebraska), and a hymn and improvisation recorded at the Church of St. Mary Magdalen in Toronto when Willan was 86. The tempo is stately.