By Daniel Hathaway
BREAKING NEWS:
Sunday's Tri-C Classical Piano recital  by Jean-Marc Luisada has been rescheduled for Monday and the venue has been changed.
Franz Welser-Möst recently had a cancerous tumor removed and will need to undergo treatment between his conducting engagements for the next twelve to sixteen months. His first period of treatment will begin at the end of October. Regrettably, Welser-Möst must withdraw from all engagements from late October until the end of the year. He plans to resume his conducting engagements in January 2024. His doctors are confident of a full recovery. (Message posted on his website 9/8/23.)
HAPPENING THIS WEEKEND:
The marriage of music and film, high on this week's agenda, continues on Friday at the Cleveland Silent Film Festival with The Heart of Cleveland & the experimental soviet documentary, Man with a Movie Camera, and on Saturday with All Quiet on the Western Front. Live scores will be played by Colorado's Mont Alto Motion Picture Orchestra.
On Saturday at 2pm, baritone Jason Fuh & and pianist Edward Bak will compare the solo vocal works of Mussorgsky and Tchaikovsky in their free program, Russian, Realistic and Romantic at the Cleveland Museum of Art. And on that evening at 7 pm at Blossom, the Akron Symphony will present Distant Worlds: Music from Final Fantasy accompanied by high-definition video.
It's a busy Sunday this week, beginning with the Canton Symphony's Gerhardt Zimmerman Memorial Concert at 3 pm, and continuing at 4:30 pm at Oberlin with a faculty & guest recital: Songs of Life, Love, and Power with soprano Katherine Jolly, mezzo-soprano Kathryn Leemhuis & pianist Samuel Martin. And at 5 pm in Hudson,  the opening event in the Music from the Western Reserve series will feature the Dave Banks Big Band with vocalist Sandra Montevideo.
Sunday's events end with an 8 pm Cleveland Uncommon Sound Project concert by Bearthoven // Elephant Ornament at Convivium 33 Gallery featuring the world premiere of a piece by Yaz Lancaster.
Click here to visit the ClevelandClassical.com Concert Listings page for more information.
INTERESTING READ:
Pushing Jazz Forward From a New Perch
Trumpeter and composer Terence Blanchard follows the premiere of two Met operas with an appointment as executive artistic director of SFJazz in San Francisco and a Jazz Masters honor. Read the New York Times article here.
WEEKEND ALMANAC:
Weekends theoretically offer more time for reading, so we'll take the opportunity to reprint three long almanac entries by our staff writers.
September 8 – By Jarrett Hoffman
Performers bring the creations of composers to our ears, and so it is with our almanac today. We celebrate not only the 94th birthday of Cleveland Orchestra music director laureate Christoph von Dohnányi, but also, through the motions of his baton, the 182nd anniversary of the birth of Antonín Dvořák (1841), and 74 years to the day since the passing of Richard Strauss (1949).
Some quick facts about Dohnányi's time on the podium in Cleveland (1984-2002). One of the big emphases of his tenure was international touring, which included performances at the Salzburg and Edinburgh Festivals, and the Orchestra's first concert in mainland China. Another emphasis was recording, including the complete symphonies of Beethoven, Brahms, and Schumann.
Among that large discography, listen to Dvořák's Symphonies Nos. 6-9 in a YouTube playlist, and head to Spotify for an album that pairs Strauss's Ein Heldenleben and Till Eulenspiegels lustige Streiche.
Plus, there was the founding of the Cleveland Orchestra Youth Orchestra and Youth Chorus, and the two-year, $36 million renovation of Severance Hall (1998-2000). That included a new shell that retained the famous acoustic qualities of the so-called "Szell Shell" — perhaps also moving to a warmer and less bright sound, some say — and that better matched the hall's art deco aesthetic.
But the Szell iteration had another, bigger problem — an internal organ problem. In the words of the firm behind the renovation, David M. Schwartz Architects,
The installation of the 1958 'Szell Shell' also made the critical mistake of entombing — and thus rendering useless — the hall's 6,025-pipe E.M. Skinner organ.
It's true, the instrument often had to be amplified with speakers to even be heard. One part of the solution was a newly-constructed space behind the stage to house the organ chambers. Another was that the facade of the new stage design allowed the organ's sound to project easily into the hall, as Kate Rogers describes in a story for the Cleveland Orchestra Archives.
Plus, the instrument underwent an extensive restoration by the Schantz Organ Company in Orrville. (Below, from the Orchestra's Archives: restoration of the organ pipes, left, and construction of the new façade pipes, right.)
The result: an instrument regarded as one of the top concert hall organs on the continent. As Rogers puts it, "this 'king of instruments' has found its voice."
Even without Dohnányi at the podium, any 21st-century performance on that restored instrument owes him a debt of gratitude. And so we conclude with a release from last year on The Cleveland Orchestra's A New Century, Vol. 3: the world premiere recording of Okeanos, Bernd Richard Deutsch's concerto for organ and orchestra, featuring Paul Jacobs as soloist. Here's the third movement, a personal favorite of mine for its sonic and emotional power — "king of instruments" indeed.
September 9 – By Stephanie Manning
For pianist Jonathan Biss, who recently performed with The Cleveland Orchestra, musical talent runs in the family. His mother, the violinist Miriam Fried (pictured), is an established musician in her own right — and today, she's celebrating her 75th birthday.
"I can't say that I planned on raising a musician of any kind," Fried said in a video for the Ravinia Festival, where she has been Artistic Director for almost 30 years. "But it was clear to me that both of my children were going to play music, because I think that's part of everybody's basic education."
Born in Romania, the violinist moved to Israel at a young age, where she took lessons from Alice Feneyes and played for artists like Isaac Stern, Nathan Milstein, and Yehudi Menuhin when they visited the country. At just 24 years old, she earned First Prize in the Queen Elisabeth International Competition (pictured) — the first woman ever to win the prestigious award. Listen to archival audio of her gala performance from that year, the third movement of the Mendelssohn Violin Concerto, here.
A celebrated orchestral soloist and recitalist, having traveled the world to perform with renowned ensembles like Boston, Cleveland, London, and Vienna, Fried is also known for her passion for chamber music. The first violinist of the Mendelssohn String Quartet, she played with the group for thirty years before they disbanded in 2010.
In a review in the Philadelphia Inquirer for one of the Mendelssohn's last concerts, Peter Dobrin wrote:
"The spiritual heart of the group is violinist Miriam Fried. In both Mendelssohn's String Quartet in A minor (Op. 13) and Beethoven's String Quartet in A minor (Op. 132), the first violin has what can be heard as recitatives – that is, free solo lines momentarily divorced from the general tempo of the piece. It was in these spots you could best sense what a special player Fried is. She fills a phrase wall to wall with sound, her intensity applied, as a vocal line is, with dramatic shape. She has a deep glow, full of overtones. She is above all human and expressive."
A professor of violin at New England Conservatory, Fried has taught a number of well-known performers including Inmo Yang, Tessa Lark, and Nancy Zhou. Her frequent collaborators include her son Jonathan — the two have performed together for more than a decade.
In an interview with The Violin Channel in 2014, Fried answered a question about her life motto by saying: "Do what you feel passionate about. Life is short – you have to do only the things that you really feel are important."
September 10 – By Jarrett Hoffman
One celebrity of early music, and one lesser-known visual-musical artist.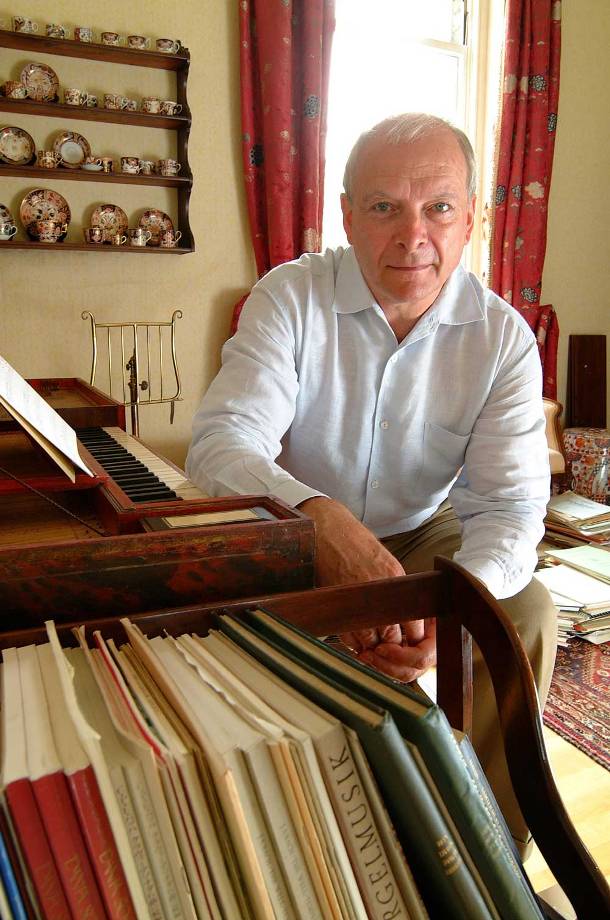 The more internationally famous name today is Christopher Hogwood (born September 10, 1941), the English conductor, harpsichordist, and musicologist who was a leading figure in the historically informed performance movement in the late 20th century. He passed away in 2014.
Among his most important positions, he was a co-founder of the Early Music Consort in 1967, and six years later started up the Academy of Ancient Music. The '80s began taking him more and more frequently across the pond, including what became a 15-year tenure as artistic director of Boston's Handel & Haydn Society (1986-2001), and four years in Minnesota as music director of the Saint Paul Chamber Orchestra ('88 to '92).
Just as one place to start, hop around the six-hour playlist of one of his biggest recording projects, the complete Beethoven Symphonies with the Academy of Ancient Music, here on Spotify.
Our other Almanac Inductee™ is under-recognized outside of his home country: Lithuanian painter, composer, and writer Mikalojus Konstantinas Čiurlionis, born on this date in 1875 (Old Style calendar). Though he died at age 35, his oeuvre totaled hundreds of paintings and works of music, and he is considered a key figure in the development of European abstract art.
Perhaps it's not surprising with those crossed artistic wires that Čiurlionis had synesthesia — in this case with colors and music. It's also notable that several of his paintings are titled after musical forms, such as sonatas, preludes, and fugues.
Two listening and two viewing suggestions: first, his symphonic poem Miške (In the Forest) and one of his many works for solo piano, the Prelude in b-flat ("Dedication"), the latter performed by Gintaras Januševičius live at the 66th International Chopin Festival.
Then his two paintings under the umbrella of SONATA VI: Stellar Sonata (Allegro), pictured left, and Stellar Sonata (Andante), right. Just a quick glance and you can feel the difference in speed.